Step 1:
Log onto Smarthub using your phone or your computer.
Step 2:
Computer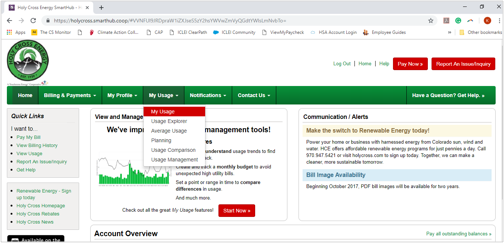 Click on "My Usage" from the top menu bar and navigate to "Usage Explorer"
Ensure the Data Range selected is the last 13 bills
Scroll down to the table below the graph labeled "Usage"
Find the "Total Usage" value
Insert this value on tab two of the calculator for Annual Energy Use
Smart Hub Smart Phone App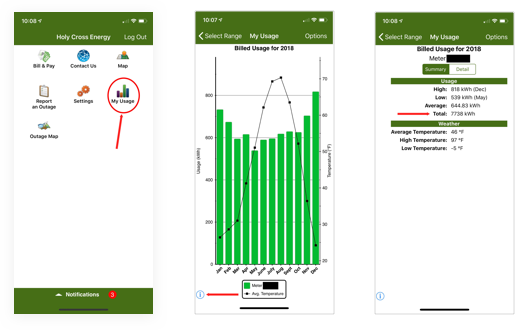 Open the Smart Hub app
Click on My Usage
Click This Year's Usage. You can scroll through years by swiping left and right. Swipe to a year where you have a full 12 months of data
Click the "i" in the lower left corner, and find "Total"
Enter this total on tab two of the calculator for Annual Energy Use
Step 1:
Locate your Holy Cross Bill. You will either receive an electronic bill or have your bill mailed to you.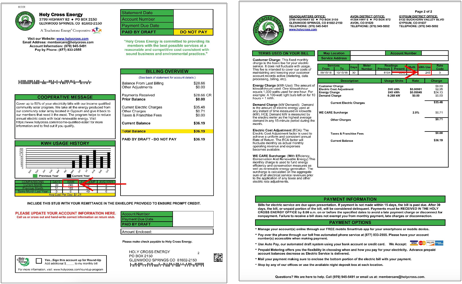 Step 2:
Locate your energy use (reported in kWh) for the month. See the images below for the two locations your kWh usage for the month is located.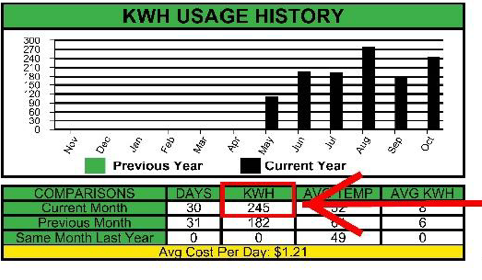 Step 3:
Enter your monthly usage data into the calculator in the cell labeled "Monthly kWh use on Electric Bill (in kWh).